Current Events of HealthVision Midwest
Free breast, cervical exams available, but many don't show up
Sunday, 25 September 2011 00:00
Story by Kathleen Quilligan
HAMMOND | Quinnesia Bell realizes women who use Indiana Breast & Cervical Cancer Program services have a lot on their minds, and their health may take a back seat.
But they won't get the comfort early detection could provide if they don't show up to their appointments.
Bell, regional coordinator for the program run by HealthVisions Midwest, said women not showing up for the free exams has been a problem since she started with the program about 10 years ago.
Healthy in any language
Friday, 08 July 2011 09:31
Story by Times Staff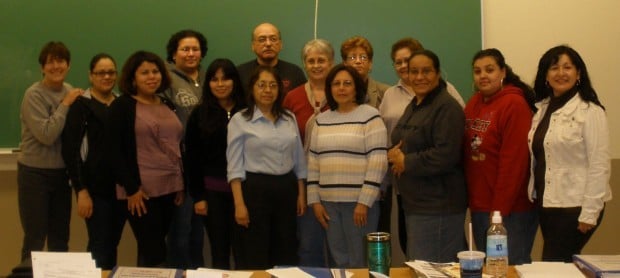 Participating in a recent course to train professional English/Spanish medical interpreters are, front row from left, instructor Maria Schwieter; Susana Jimenez, of Hammond; Jessica Starkey, of Hammond; Isabel Reyes, of Porter County; Mary Ellen Castello, of Gary; Maria Anaya, of East Chicago; Noemi Orellana, of Hammond; Carmen Vazquez, of East Chicago; Lillian Torres, of Hammond; back row, Brenda Osoria, of Valparaiso; Jose Valtierra, of Merrillville; Bilke Rode, of East Chicago; Sylvia Morrisroe, of Lake County, and Maria Watkins, of East Chicago.
CROWN POINT | The REACH/Alcance Program, in partnership with Area Health Education Center and HealthVisions Midwest, held a five-week medical interpreter course this spring at the Purdue University Learning Center.
A total of 13 area health care workers and medical technicians from agencies ranging from Moms Taking Charge in Lake County to Healthlinc in Porter County were trained in medical terminology for the purpose of providing medical interpreting for their prospective agencies in Spanish and sustainability of language availability.
In East Chicago, Moms Are Taking Charge
Tuesday, 24 May 2011 00:00
(From left) Jimies Hagan talks with Moms Taking Charge Family Support Specialist Stephanie Parr about her program aimed at supporting single mothers
Story by Damian Rico
EAST CHICAGO | A mother's job is extremely difficult. They must be disciplinarians, leaders and role models to their children and some are forced to do it alone.
But in East Chicago, Moms Are Taking Charge.
Moms Are Taking Charge, 100 W. Chicago Avenue, is a new initiative designed to assist single moms with young children and women who are pregnant, locate and access the support they need to build independent and healthy families.
REACH/Alcance Program partner with agencies to create new medical interpreter course
Thursday, 19 May 2011 00:00
From left to right front row: Maria Schwieter, Susana Jimenez, Jessica Starkey, Isabel Reyes, Mary Ellen Castello, Maria Anaya, Noemi Orellana, Carmen Vazquez, Lillian Torres ; From left to right back row: Brenda Osoria, Jose Valtierra, Bilke Rode, Sylvia Morrisroe, Maria Watkins
Contributed by Lillian Torres REACH/Alcance Program and Coalition;
HAMMOND | On March 18, the REACH/Alcance Program in partnership with AHEC (Area Health Education Center) and HealthVisions Midwest held a 5-week Medical Interpreter course at the Purdue University Learning Center in Crown Point, IN.
Thirteen area Healthcare Workers & Medical Technicians were trained in Medical Terminology for the purpose of providing Medical Interpreting for their prospective agencies in the Spanish and sustainability of language availability.
Prenatal Helpline
Monday, 04 April 2011 13:31
by Lillian Torres; REACH/Alcance Program & Coalition
This is one of our many stories of empowerment. A phone call came in to the Prenatal Helpline that the Alcance program hosts as a service that assists pregnant women in accessing healthcare and provide community resource information in efforts to facilitate systems navigation. The mom called to inquire on interpreting services and transportation information. When she was asked if she was pregnant she said no. When she was asked if she had minor children at home she said "Yes I do, I have a 2 year old, a 3 year, a 4 year old, 5 year old, 6 year old, and 11 year old." Whew! She was then advised to call the number on the back of her Medicaid card which provides a line for Spanish speaking individuals and request assistance with transportation. When she called back she said she was able to obtain the transportation she needed. Also she said she didn't know that the line existed and was very happy with the services provided. It is the goal of the REACH/Alcance program to empower our community members.
REACH U.S. Technical Assistance Workshop
Wednesday, 16 March 2011 15:13
Raquel Castro and Sr. Margaret Anne Henss, PHJC attended the annual REACH U.S. Technical Assistance Workshop in Atlanta, GA. on March 9-11, 2011 They were one of four presenters at the conference highlighting the REACH/Alcance program in Lake County.
REACH stands for Racial and Ethnic Approaches to Community Health. REACH grantees from across the country gathered to share their accomplishments in eliminating health disparities in their local communities. Here at HealthVisions, Raquel and her staff are working at decreasing infant mortality among Hispanic women. A key component of the program is providing medical interpretation between provider and client.
"All My Days" Summer Youth Camp
Tuesday, 15 March 2011 14:39
"All My Days" Summer Youth Camp sponsored by Faith in Action to Serve and Transform (FAST) ministry impacted the care receivers in our community this summer by providing volunteer services. The campers provided yard work, light housekeeping, assisted transportation, friendly visits and telephone reassurance. FAST also provides transportation to care receivers 60 years of age and above. The youth assisted the care receivers to the doctor, cleaning basements, cutting grass and pulling weeds in yards. "Many of our care receivers are not able to walk for long periods of time and the campers didn't hesitate to assist them during transports," says Carol Toller Program Manager for FAST and Director of the summer youth camp. Care receivers are transported to the doctor and need assistance getting in and out of the vehicle or someone to stay with them while they are at the doctor's office. The youth were willing and ready to go along and friendships between our care receiver's and campers were formed.
Maternal Child Health Program
Tuesday, 15 June 2010 18:00
On occasion we have opened our doors to the student nurses from Brown Mackie College, located in Merrillville Indiana. Through the mentoring rotation of their course, they have come to our East Chicago office to experience a different side of nursing.
Minnesota Dream Team
Sunday, 13 June 2010 18:00
Seven volunteers from Minnesota and one from Wisconsin made up the 2010 Minnesota dream team. They joined Sr. Annemarie and Angie Martin from the Hammond office, and Tyneshia Wikinson and Brandon Vaughn ESL volunteers to help the staff at HealthVisions East St. Louis move to their new offices in June.
Page 2 of 2