Story by Times Staff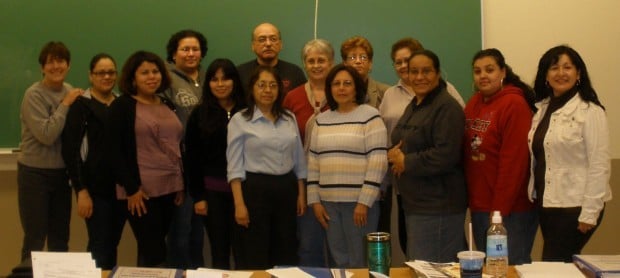 Participating in a recent course to train professional English/Spanish medical interpreters are, front row from left, instructor Maria Schwieter; Susana Jimenez, of Hammond; Jessica Starkey, of Hammond; Isabel Reyes, of Porter County; Mary Ellen Castello, of Gary; Maria Anaya, of East Chicago; Noemi Orellana, of Hammond; Carmen Vazquez, of East Chicago; Lillian Torres, of Hammond; back row, Brenda Osoria, of Valparaiso; Jose Valtierra, of Merrillville; Bilke Rode, of East Chicago; Sylvia Morrisroe, of Lake County, and Maria Watkins, of East Chicago.
CROWN POINT | The REACH/Alcance Program, in partnership with Area Health Education Center and HealthVisions Midwest, held a five-week medical interpreter course this spring at the Purdue University Learning Center.
A total of 13 area health care workers and medical technicians from agencies ranging from Moms Taking Charge in Lake County to Healthlinc in Porter County were trained in medical terminology for the purpose of providing medical interpreting for their prospective agencies in Spanish and sustainability of language availability.
The curriculum consists of the basic requirements to become a professional English/Spanish medical interpreter, and the instructor, Maria Schwieter, is a RN, BSN, MSE, BTG, and the Spanish interpreter/educator at IU Health La Porte Hospital.
The students learned about the cultural aspects of interpreting, memory training, folk medicine, note taking, basic anatomy, physiology, medical terminology, roles of the interpreter and the purpose of the medical interpreter.
Racial Ethnic Approaches to Community Health for Lake County (REACH/Alcance) aims to improve the health of all racial and ethnic populations in Indiana through increased awareness, partnerships, and the development and promotion of effective health policies and programs that help to reduce minority health disparities.
Meetings are held from 11:30 a.m. to 1:30 p.m. the fourth Wednesday of every month. For more information, call (219) 844-2698 or visit reach-alcance.org.
---
This article was originally published in The Northwest Indiana Times.